Family Prayer at the Centre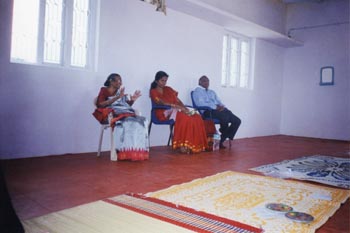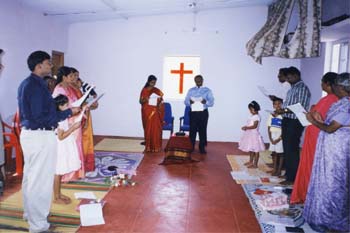 ISAIAH 55:8 MY WAYS ARE NOT YOUR WAYS AND MY THOUGHTS ARE NOT YOUR THOUGHTS
Before the planned dedication in September 2000, when all we were hoping was to start a general out-patient department, my nephew, Philip Ashok sent some boxes of samples which contained bundles and bundles of gauzes, packs and packs of sterile surgical gloves, hundreds of scalp vein sets and hundreds of venflons and foley catheters etc. I thanked him but thought to myself that these are the things I may never use in the near future and even gave some to one nursing home to get something else in return! What God had in mind I never could read then! If we are able to do so much not caring for the returns it is because most of our needs have been met in advance!!
MALACHI 3:10
Looking back I am amazed at the wonderful way our God has been leading us. Great is His faithfulness. One night in late August during a surgical camp, I felt that the space in our theater was significantly reduced by the things added to it (the Pulsoxymeter, diathermy etc that were donated by Dr. P. D. R & others) and that people were all over the available space and the buildings were over-flowing. When I was about to grumble about our need for more space, like a spark, I was reminded of the scripture in Malachi where God challenges and says TEST ME IN THIS, SAYS THE LORD ALMIGHTY, AND SEE IF I WILL NOT OPEN THE FLOOD GATES OF HEAVEN AND POUR OUT SO MUCH BLESSING THAT YOU WILL NOT HAVE ROOM ENOUGH FOR IT! We started with a piece of barren land only to watch Him open the windows of heaven and bless us until we had no space- it is real, it is awesome! God is indeed real and awesome!!
PSALM 50:15 CALL UP ON ME IN THE DAY OF TROUBLE AND I WILL DELIVER YOU AND YOU WILL HONOR ME
We had to resort to this reminder very often when our O2 cylinders leaked, generators miserably failed especially when the teams and patients were all set for their surgeries. Remember, we are 30 kms away from the nearest available help. On one such occasions, even when we were about to lose patients who had more than anticipated blood loss, God did not put us or the patients through despair.
Many times we experienced the marvelous presence of our God. We also had to go through the shadow of the valley of death (click to journey thru' the valley) a few times. Even there His staff and rod of justice and mercy was all we needed to pull through.
ROMANS 2:7-11 THOSE WHO BY PERSISTENCE IN DOING GOOD SEEK GLORY, HONOUR AND IMMORTALITY, HE WILL GIVE ETERNAL LIFE. ....GLORY, HONOUR AND PEACE FOR EVERY ONE WHO DOES GOOD, ......FOR GOD DOES NOT SHOW FAVORITISM
I pray that our friends from Chennai and Chengalpattu who are so zealous in this endeavor be covered by these assurances.
MATHEW 6: 33 SEEK YE THE KINGDOM OF GOD AND ITS RIGHTEOUSNESS AND ALL THESE THINGS (NECESSITIES) WILL BE ADDED UNTO YOU.
Not only are the needs of the center but also our personal needs are being met beyond comprehension. In the initial stages my wife and I relied only on our retirement benefits for nearly eight months until my wife (and sponsor) Padmini got a job in a local medical college. After 31 years of marriage we finally have our own home -a beautiful one!
FUNDING??!!
This has really been "FUN THING" and it continues to be so. God has indeed humbled us greatly through His faithfulness in spite of our unfaithfulness and through unbelievable and miraculous ways of support from His dear children. The chapel that is being built and the brand new and much more comfortable mode of transportation we now enjoy are just two examples of very many provisions we have received through the children of the Creator.
I CONTINUE TO MARVEL AT THE WAY OUR LOVING LORD IS LEADING US. I CAN ONLY SAY THAT I AM ONLY A MUTE SPECTATOR OF THE GREAT DOINGS OF A GREAT GOD!
" HOW HE USES WHOM HE CHOOSES AND WITH EVERY PURPOSE FUSES, BY EVERY ACT INDUCES, ONLY TO TRY HIS SPLENDOR OUT!" -- ONLY HE KNOWS WHAT HE IS ABOUT !! (AUTHOR UNKNOWN).
May I in all earnestness plead you to continue to pray for us, that we shall ever remain trustworthy before you and before the Almighty. Thank YOU!
Jeyachandran Back to About Us